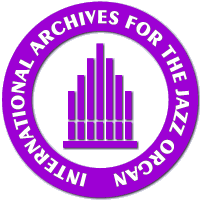 ---
NEW RELEASES 1999
---
2 B3 - The Toronto Sessions
Calabogie Music


---

Doug Riley, Hammond B3 organ
Bill Payne, Hammond B3 organ
Michael Fonfara, Hammond B3 organ
Denis Keldie, Hammond B3 organ
Rob Gusevs, Hammond B3 organ
Lance Anderson, Hammond B3 organ
John Tilden, guitar
Mitchell Lewis, guitar
Neil Chapman, guitar
Colin Linden, guitar
Dennis Pendrith, bass
Ritchie Hayward, drums
Dick Smith, percussion


---

It's a hot thing - impulsive, swinging, cooking!
Hot Rhythm & Blues produced by two Hammonds and various organ players. However, the side men at guitar, bass and drums are disappointing. Nonetheless: This album is a collector's item - a must for all Hammond jazz organ fans.




---
to order the CD from the USA click on the logo!