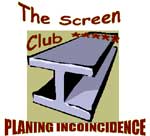 no label
---
Hakan Türkösü, Hammond C-3 organ
Marek Cipski, guitar
David Milzow, sax
Bassim Aziz Safi, drums

---
A name, sounding unusually in the Western jazz life, lets the fan shy away for the moment. Jazz from Turkey? No, no, Hakan is born in Germany, but of course Turkish blood floods in his veins. And Hakan proves that any prejudice is misplaced. For Hakan is full of vigour and plays jazz the way people generally think of over here.

He plays a cheeky, a dirty organ with an overmodulated Leslie, funky, groovy - in fact kewl. Blended are elements of rock, funk, bebop, quite a few things remind us John Medeski, others more likely Jack McDuff. But Hakan also is very good at low ballads which - together with the guitar and the drums - he lets sound in smooth lines.

Not so well received is the sax which sometimes seems to bother you. Altogether, this cd is a hot disk. Hakan surely will become a talking point in the jazz organ scene.