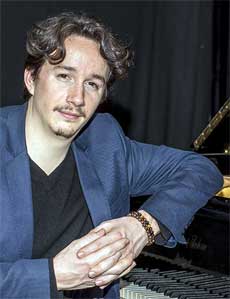 © Rainer Ortag @jazzreportagen.com
Fred Nardin

Fred (Frédéric) (* 1987), pianist, organist, composer, and arranger, started playing the piano at age five. He entered the Conservatoire de Chalon-sur-Saône to study classical music, and later became part of the jazz class there, directed by Sylvain Beuf. At eighteen, he joined the Department of Jazz and Improvised Music at the Conservatoire de Paris. He graduated in 2011. Two years later, his passion for writing and cinema led him to take a film score writing class directed by Laurent Petitgirard and Marie-Jeanne Serero.

In 2010, with Jon Boutellier, Bastien Ballaz, and David Enhco, he founded the Amazing Keystone Big Band, which brought together eighteen of the most promising young musicians. Their debut album, Pierre et le Loup... et le jazz, a re-adaptation for jazz big band of Prokofiev's famous piece (Peter and the wolf), won the Académie du Jazz award for Best French Jazz Album in 2013. It was followed by Le Carnaval jazz des animaux (Carnival of the Animals) (2015); Monsieur Django et Lady Swing (2017); and La voix d'Ella (2018). The Amazing Keystone Big Band has also collaborated with many internationally acclaimed artists, such as Quincy Jones, Rhoda Scott, Cécile McLorin Salvant, Zaz, Charles Aznavour, Liz McComb, Nikki Yanofsky, James Carter, Gregory Porter, China Moses, Sarah McKenzie, and Bill Mobley. In 2018, it was awarded a Victoires du Jazz award in the category Best Band of the Year.

In 2017, Nardin received the Prix Django Reinhardt (French Musician of the Year 2016) from the Académie du Jazz, and in 2018 he was nominated for a Victoires du Jazz award in the category Rising Artist.

He currently performs in a trio with Leon Parker and Or Bareket and in many other bands, such as the Fred Nardin/Jon Boutellier 4tet, the Stefano Di Battista 4tet, the Hugo Lippi 4tet, the Switch Trio, the Sophie Alour Trio, the Gaël Horellou Organ Trio, and the Amazing Keystone Big Band.

In parallel with his career as a musician, he taught jazz piano at the Chalon-sur-Saône regional Conservatoire (from 2009 to 2015) and arrangement and jazz piano at the Pôle d'Enseignement Supérieur de la Musique de Bourgogne (from 2011 to 2015). He is also a regular speaker at the Didier Lockwood Music Center and several renowned workshops.

He has also distinguished himself by performing with Stefano Di Battista, Lionel and Stephane Belmondo, Fabrizio Bosso, André Ceccarelli, Evan Christopher, Jesse Davis, Joël Frahm, Rodney Green, Eric Harland, Nancy Harms, Scott Hamilton, Benjamin Henocq, Baptiste Herbin, Max Ionata, Biréli Lagrène, Ralph Lalama, Didier Lockwood, Fabien Mary, Don Menza, Charnett Moffett, Gary Smulyan, Cecile McLorin Salvant, Joe Sanders, Jacques Schwarz-Bart, Veronica Swift, Stochelo Rosenberg, Saul Rubin, and many others.