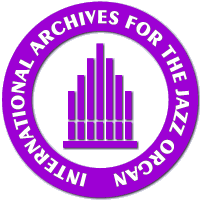 IAJO
The International Archives for the Jazz Organ
c/o Jürgen Wolf
Forsbachstr. 20
D-51145 Köln / Germany
Phone +49 2203 932882
Fax +49 2203 932213

picture by
Rudolf Barten
© Stadt Köln
This website is maintained benevolently without profit making.




© 1996-2012 Jürgen Wolf, Forsbachstr. 20, D-51145 Köln / Germany
All rights reserved
You may not copy any content or part of it without my explicit permission.
Responsible for the content of this web site: Jürgen Wolf
I run this web site privately without any business background.
Hammond is a registered trademark of Hammond Suzuki Corp.
All pictures shown on this web site are published
with the authorization of the artists/photographers.