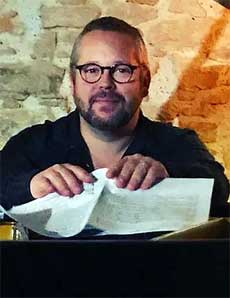 Olivier Truchot

Olivier discovered the piano at age six. At age 16, he assembled his first group. From the beginning being self-educator, he joined the Conservatoire de Lyon, where he gained a Gold Medal for his jazz piani playing. His work led him to the different styles of jazz history as there are the blues, the swing, the bop a.m.m. The musicians he meets have their influence on him, he discoveres further styles such as the Latinos.

Olivier is called often as "sideman" for the great names in jazz. Presently, he lectures piano at the Conservatoire de Chalon sur Saone.

Collaborations: Walt Weiskopf, Scott Hamilton, Ralph Moore, Rob Bonisolo, François Théberge, Irving Acao, Georges Robert, Bob Mintzer, Eddie Daniels, Greg Abate, Eric prost, David El Malek, Hervé Meschinet, Tony Pagano, Géraldine Laurent, Daniel Huck, Jean Toussaint, Jim Rotondi, Flavio Boltro, Denis Leloup, Michael Felberbaum, Leonardo Amuedo, Tony Petrucciani, Ivan Lins, David Linx, Larry Brown, Marc Thomas, Lavelle, Sandy Patton, Zaza Desiderio, André Ceccarelli, Andrea Michelutti, Philippe Soirat, Antoine Paganotti, Ichiro Onoe, Andy Barron, Benjamin Henocq, Remi Vignolo, Sangoma Everett, Lukmil Perez, Felipe Cabrera, Reggie Jonhson, Ferenc Bokany, Gene Perla, Jérome Regard, Roland Guerin, Daniel Mille, Jean Louis Trintignant, Keystone Big Band,...

Current projects: Garrafa Jazz, Sambajazz Group, Strings on T.O.P, We Five & Jim Rotondi, BIGRE !, Vinicius Gomez & Olivier Truchot Duo, Big Band Chalon Bourgogne, Celia Kameni & Olivier Truchot Duo, Trio Aliado, Mario Stantchev-Olivier Truchot Duo Rio-Lyon Trio, Oliver Nelson Tribute, Art Pepper + Eleven Remembered, Organ Silver, Gipsy Organ Trio.