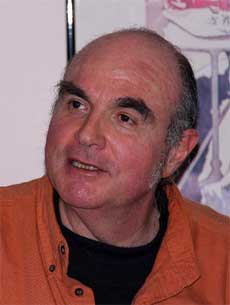 Pippo Guarnera

Pippo (* 1953 in Sicily) got his first Jazz gig at the Rome MUSIC INN jazz club. 1974 saw the beginning of a collaboration with NAPOLI CENTRALE, an Ethno Jazz-Rock band with several albums out and about 500 concerts performed during two years span ; worth mentioning is the opening for WEATHER REPORT and DUKE COBAHM BAND in Rome 1975 and an appearance at the Swiss MONTREUX JAZZ FESTIVAL.

After various studio sessions and a tour with EUGENIO FINARDI (1976), Pippo moved to Los Angeles in 1977 refinishing his musical skills studying arrangement, composition, orchestration and film scoring at the GROVE SCHOOL, located at that time in Studio City Los Angeles CA, under the direction of masters as Dick Grove, Jack Eliot, Albert Harris, Jack Smalley, Allyn Ferguson, Mundell Lowe, Roger Kellaway, Clare Fischer.

In 1983 Pippo was back in Rome, Italy to participate to the TV show MISTER FANTASY on national channel RAI 1. In 1985 he moved to Bologna starting a collaboration with Blues artists Andy Forest and Billy Gregory paying another visit to the MONTREAUX JAZZ FESTIVAL. A tour with Enzo Jannacci during 1987 and 1988 ended in a TV show on RAI 2 with Dario Fo' - Franca Rame and Jannacci. He again was on tour in 1991 with Neapolitan singer Edoardo De Crescenzo and Brazilian percussionist Nanè Vasconcelos.

In 1991 Pippo joined the RUDY ROTTA BAND which collected performances at many European blues and jazz festivals as Gaildorf, Lugano, Fribourg, Locarno, Montreux, Leipzig, Dresden, Hohentwiel, Sanremo Blues, Pistoia, The MEDITERRANEAN BLUES CRUISE with John Mayall's Bluesbreakers, Marcia Ball, Little Charlie and the Nightcats, Buckwheat Zydeco, Louisiana Red, John Mooney and USA as well at the KANSAS CITY BLUES & JAZZ FEST with Jay McShann, Al Green and Taj Mahal, historical blues clubs as The Grand Emporium in Kansas City and Rosa's in Chicago, performing and recording with Carey Bell, Lovie Lee, Jeann Carroll, Sugar Blue, Karen Carroll, Luther Allison, Lowell Fulson, Billy Brunch, Zora Young, Coco Montoya, Maria Muldaur, Corey Harris and many others.

During the 2000 decade Pippo started new collaborations, BLUE TRAIN TRIO with Jimmy Villotti and Vince Vallicelli , the trio MEMPHIS ON STHEROIDS (Green Onions), Antonio Gramentieri and Matteo Monti and not to forget the MAGIC TRIO with James Thompson and Vince Vallicelli plus some other tours with the jazz singer Harriet Lewis. A participation to the Dubai International Jazz Festival with guitarist Enrico Crivellaro followed. The following is a long series of collaborations with Jono Manson, he toured with Sax Gordon Beadle, Chris Cain, Guy King, Peaches Staten, J.W. Williams, Katherine Davis.