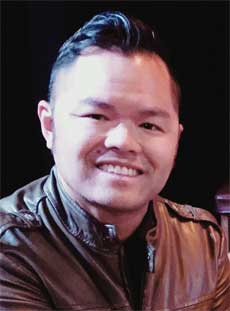 Brian Ho

Brian began playing piano at the early age of five taking lessons at both Stanford and San Jose State. By the age of sixteen, he began to play professionally and started teaching. After his college years spent studying music at UC Davis, he decided to pursue his love of music as a leader, composer, and arranger. Brian now leads his own group on the Hammond Organ and is an in demand sideman. While Brian still stays rooted in the tradition of classic Hammond Organists such as Jimmy Smith, Shirley Scott, and Jack Mc Duff; with his vast knowledge of styles and influences he has developed his own unique and modern take on organ jazz.

One of the most influential experiences he had was playing for an African American Baptist Church for several years as a young teenager. This is where he first forged his love affair with the Hammond Organ. Brian now performs almost exclusively as a Hammond Organ player. He owns a 1960's Hammond A-100 and a 1960's Hammond A-101 as well as two vintage Leslie 122. In 2009, he became an endorser for the Hammond-Suzuki Organs. In 2013, he became a Crumar Mojo artist. In 2017, he became a Viscount Key B artist and currently he uses a Viscount Legend Live.

Brian is fortunate to play with some of the finest musicians including Richie Cole, Calvin Keys, Akira Tana, Josh Jones, Leon Joyce, Anton Schwartz Dave Ellis, Melicio Magdaluyo, Annie Sellick, Christian Tamburr, Peppe Merolla, Chuck McPherson, Bob Kenmotsu, Tony Peebles, Terrence Brewer, Lorca Hart, Clifford Brown III, Rick Vandavier, Wally Schnalle, Oscar Pangilinan, Nicholas Bearde, Jason Lewis, Jack Riordan, Joe De Rose, Randy Vincent, Mason Razavi, Mike Scott, Jim Witzel, Scot Miller, Neil Kelly, Ken Okada, and many more. Brian performs regularly at several prominent concerts, jazz clubs, and jazz festivals.