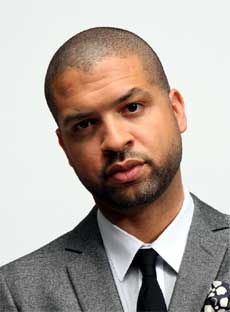 Jason Moran

Jason (*1975) was born in Houston, Texas. He began studying the piano at age 6, but longed to quit the instrument until he first experienced the sounds of jazz legend Thelonious Monk, an experience that renewed his interest in music and established an early role model in his creative development.

Moran went on to attend Houston's High School for the Performing and Visual Arts where he became an active member of the jazz program, playing in the big band and leading a jazz quartet. His aspirations and talents eventually led him to New York City where he continued his education at the Manhattan School of Music, a school to which he was drawn by the prospect of studying with the pianist Jaki Byard, a jazz leftist who became Moran's teacher for 4 years and a role model for life. It was during this time that Moran also took lessons from other forward-thinking pianists such as Muhal Richard Abrams and Andrew Hill.

In 1997, while Moran was still a senior in college, the drummer Eric Harland, a high school classmate of Moran's, recommended him to saxophonist Greg Osby who was in the process of assembling a band for a European tour. Osby hired Moran based solely on Harland's description of his playing, and the match proved to be auspicious. The connection between Osby and Moran was present as soon as they hit the bandstand, and Moran has become a fixture in Osby's touring and recording bands ever since. Moran made his professional recording debut on Osby's 1997 Blue Note CD, Further Ado, which brought him to the attention of Blue Note executives who signed the pianist to his own record deal shortly thereafter.

Moran's debut recording as a leader, Soundtrack to Human Motion, which found him in the company of Osby, Harland, vibraphonist Stefon Harris and bassist Lonnie Plaxico, was released in 1999. The following year's Facing Left found Moran stripping down to a trio with bassist Tarus Mateen and drummer Nasheet Waits. Moran augmented the trio for his third Blue Note release, Black Stars, adding avant-garde icon Sam Rivers, who plays saxophone, flute and piano on the recording. Moran has performed as a sideman with such artists as Cassandra Wilson, Joe Lovano, Don Byron, Steve Coleman, Lee Konitz, Von Freeman, Ravi Coltrane, and Stefon Harris. He was the youngest honoree of the New Work Commission by the San Francisco Jazz Festival.

In 2002, Moran released his universally acclaimed solo piano disc Modernistic. The Cork Jazz Festival awarded Moran the 2002 Guiness Rising Star Award. 2003's The Bandwagon, culled from the trio's six-day stint at New York's Village Vanguard, earned the team of Moran-Mateen-Waits a title as "the best new rhythm section in jazz" (The New York Times) and caused Rolling Stone to proclaim Moran "the most provocative thinker in current jazz". The Jazz Journalists Association awarded Moran with the "Up-n-Coming Jazz Musician" of 2003. Moran topped the Down Beat Critics Poll in three categories in 2003 and 2004 - Rising Star Jazz Artist, Rising Star Pianist, Rising Star Composer.

He has been lecturer/instructor at Banff Center for The Arts (2003,2004), Denmark's' Vallekilde Jazz Camp (2003), Skidmore (2000), Manhattan School of Music (2002-2004), The New School (2004) and his alma-mater, High School for the Performing and Visual Arts.

2010 was a momentous year for Moran. He was awarded the prestigious MacArthur Fellowship and released the most assured and focused recording of his career thusfar, TEN, which celebrated the 10 year anniversary of The Bandwagon. The album prompted JazzTimes to declare Moran "jazz's greatest young conceptualist". In 2011, Moran began a fruitful association with the John F. Kennedy Center for the Performing Arts, Washington, D.C. where he is now the Artistic Director for Jazz, a role that allows him to develop programming and curate artists for one of the largest jazz programs in the United States.