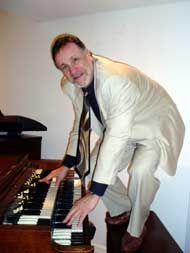 John Papi

John Papi, born 1939, lived in uptown Pittsburgh. Ever since a little boy, being inspired by Jimmy McGriff and Wendel Byrd, he dreamed of being a jazz organ player, and fell in love with the Hammond B-3, jazz and Pittsburgh. Since his family could not afford to buy him an organ, he started saving his money from a paper route he had in the hill district of Pittsburgh. As he used to pass Birdi Dunlap's place, at that time called "the Hurricane", he used to dream of playing the organ there someday.

At 17 years of age, John joined the Navy for his 4 year reign as seaman. At 21 years of age, became a welder at John Harrison Sheet Metal in Glenshaw and was able to start his music career on weekends. He bought an accordion, taught himself how to play, put a band together and played as a wedding band (The Montclairs), and was imaged as a polka player, but still yearned to be a jazz organist. He then bought a used accordovox (an organ inside of an accordion), disassembled it, and re-wired it and put into a console, which enabled him to sit like an organ player. Soon after, he did buy his first Hammond B-3. His first organ band "John Papi Organ Trio" was booked at The Hurricane, featuring Jack Petit, and his dream came true. He met up with an agent, Johnny Adams, which booked his band at The Golden Nugget and several other nightclubs in the Pittsburgh area. After a few additions to the band, now called "Fairchange", featuring Chuck Corby, he became in great demand to play live venues.

From then on he traveled the United States with the Holiday Inn Circuit, until he returned home to Pittsburgh in 1968, to open his first nightclub, "The Panther Room" on Route 51, where his band took center stage as the entertainment. The crowds commanded that he opened a bigger place, and after two years "The Cocktail Garage " was born, later known as "The Haunted House", also located on Route 51. In 1973 the club was sold and he went back on the road with the hotel circuit but returned to Pittsburgh, and in 1975 opened "Papis Deli and Restaurant" at Pennsbury Village. After the sale of the deli in 1979, went back out on the road to eventually become the house band at "Joeys Restaurant" in McKeesport, also at Johnny's Restaurant (Monzos) in Monroeville. In 1980 he played on AM Pittsburgh with one of his favorite musicians, Joe Negri. In 1981 he was married and re-opened the "Panther Room" on route 51. The "Panther Room" was sold in 1984 and his love of music took him on the road again until 1990 when he was involved in a car accident, which ended his music career. Over the years John Papi scored triumphs in stage appearances, and he has been hailed as one of the greatest jazz organists in the 20th century. His original Hammond B-3 remains in his home in Peters Township.

Albeit, as Porky Chedwick used to say "the man with the thousand fingers" has retired. But his love of jazz, Pittsburgh, and the Hammond B-3 will always remain.