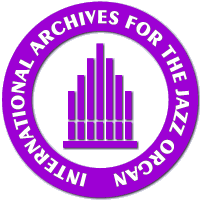 ---
NEW RELEASES 1996
Eric 'Scorch' Scortia: Vital Organ
Heads Up (Inak) 40062


---

Eric Scortia, Hammond organ
Marchel Ivery, tenor sax
Ira Bassett, trumpet
Henry Johnson, guitar
Jim Shannon, guitar
Don Bozman, trombone
Ed Soph, drums
Bob Stewart, percussion


---

Hammond goes Texas! Scorch, influenced by Booker T., J. Geils and Jimmy Smith (from whom he took lessons), presents an album, which demonstrates his energizing style of playing the B3. A bit Philly sound, a bit Blues, a touch of rock, all that leads to an impulsive mixture of music - should we call it the Texan style? Whatever it is, Eric Scortia enriches the American Hammond organ scene.
Both Eric's Armadillo stew and his music are excellent.
---
Back

If you don't see the left hand menu,
please go back to the homepage.
Back to the homepage