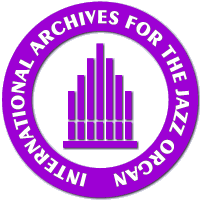 ---
NEW RELEASES 1996
Maggy Scott: Live At The Cafe Art
BMG 74321 41372-2


---

Maggy Scott, Hammond B-3 organ
Peter Glessing, tenor sax, clarinet
Jeremy Gaddle, drums


---

Maggy, in a certain tradition of the Philly organ players, found her own style to play the B3. Unmistakable the study of church organ and its totally different way of playing had their influence on Maggy's technique on the Hammond. This results in exactly delimited figures which are produced by a classical virtuosity. Even her structered bass playing on the pedal demonstrates the roots of the church organ. Peter Glessing is the equal partner since longtime. Most tunes on this album are composed by Maggy.
Listen to it, and love it.
Back

If you don't see the left hand menu,
please go back to the homepage.
Back to the homepage