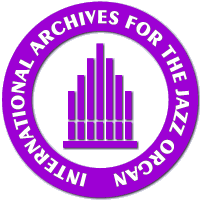 ---
NEW RELEASES 1996
Andreas Wermeling: Organ Goes Jazz & Rock
Edition Organum 96009


---

Andreas Wermeling, church organ
Dieter Niermann, trumpet
Martin Köbbing, trumpet
Klaus Storm, oboe
Lars Arens, trombone
Nils Koschwitz, trombone
Lauren Smith, percussion, didgeridoo


---

In Germany, the country of the pipe organ, you will find a lot of jazz projects on the church organ. And thus you May not wonder about another one which was presented by the young organist Andreas Wermeling. He leads us into a world of sacral sounds which turn into swinging, but also meditative music. On some of the tracks Wermeling cooperates with trumpets, trombones, an oboe and percussions. Two tunes should be mentioned in particular: "Birdland", the well known song by Joe Zawinul, is put onto the pipe organ in a really remarkable way. Considering the somewhat clumsy mood of a pipe organ, Andreas has achieved to lay a steady rhythm under the harmonic structure of "Birdland" while the percussion supports it with a tiny triangle sound like an "organ point".

The other one, "Jean Langlais meets Miles Davis", gives us an impression of orchestral organ music composed by such famous organists like Jean Langlais, Marcel Dupré, Olivier Messiaen. After an introduction Wermeling presents in a fantastic way the music world of Miles Davis and closes with a majestic finale.
If you love the church organ, you should hurry to buy this album!
---
Back

If you don't see the left hand menu,
please go back to the homepage.
Back to the homepage