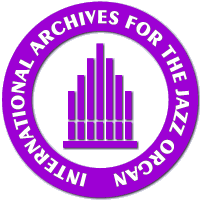 ---
NEW RELEASES 1997
---
We Three: East Coasting
Organic Music ORGM 9702


---

Michael Arlt, guitar
Dan Kostelnik, organ
Duck Scott, drums
Roman Schwaller, tenor sax


---

Traditional jazz seems to be "in". Another group, called We Three, is bound to the styles of the 60's. You will be remembered the famous guitar/organ trios with Wes Montgomery or Kenny Burrell. The organ part on this album is played by Dan Kostelnik, an American piano player who found his love in the Hammond. His way of giving room the guitar as the leading instrument but at the same moment pointing out the instrument's qualities reveals Dan's abilities of playing the organ.

East Coasting is not a loud album, rather a soft one. It is opened by an "ear catcher", Stevie Wonder's Isn't She Lovely. Most of all further titles are composed by the guitar player Michael Arlt.
A very interesting fact is that the drummer, Duck Scott, is the son of one of the best organ players at all: Shirley Scott.



---
Back

If you don't see the left hand menu,
please go back to the homepage.
Back to the homepage