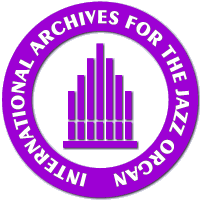 ---
NEW RELEASES 1997
---
Nicholas Hoffman: Nick's Tricks
Jazz Friends Productions JFP 32096
distribution: email jazzkoo@memes.com


---

Nicholas Hoffman, guitar
Barney McClure, Hammond B-3 organ
Larry Jones, drums
Brian Kent, tenor sax
Rick Mandyck, tenor sax
Debra Chang, vocals


---

The American guitar player Nicholas Hoffman, playing in the good tradition of such jazz heroes like Wes Montogomery, has a keen interest for organ players. On this CD, Nicholas assembles a quartet in which Barney McClure takes the part of the organ player. Barney has a very good and fluent technique, surely shaped by the great masters of the Hammond organ, but restraining himself a little bit.
Most of the titles are standards like Four (Miles Davis), Love For Sale (Cole Proter) or Take Five (Paul Desmond). From the very beginning, it becomes a pleasant event listening to this music.




---
Back

If you don't see the left hand menu,
please go back to the homepage.
Back to the homepage