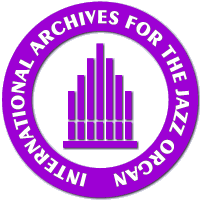 ---
NEW RELEASES 1998
---
Jerry Bergonzi: Lost In The Shuffle
DTRCD 142


---

Jerry Bergonzi, tenor sax
Dan Wall, Hammond organ
Adam Nussbaum, drums


---

We know Dan Wall as a member of the John Abercrombie Trio where he was involved in such wonderful albums like "Tactics" and "Open Land".
Again a trio, but this time with Jerry Bergonzi at the tenor sax. The comparison Abercrombie - Bergonzi May be allowed. The three musicians join together seamlessly their sounds to a lyrical, sensitive tonal creation based on Jerry's compositions. Dan again proves his ability of generating an originality of his own.





---
Back

If you don't see the left hand menu,
please go back to the homepage.
Back to the homepage