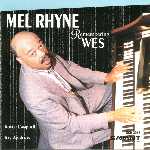 Savant SCD 2016
---
Mel Rhyne, Hammond organ
Royce Campbell, guitar
Ray Appleton, drums

---
It was Wes Montgomery, this famous guitar player, who, in 1958, led Mel to the organ. In the years to follow, between 1959 and 1964, Mel cooperated with Wes and was part of his trio (guitar/organ/drums). Two of the best albums were "Boss Guitar" (1963) and "Portrait of Wes".

Who will be surprised about this fine album "Remembering Wes", as it is for sure that Mel got important impulses for his further career as artist from the encounter with Wes. As man of low tones, Mel does not push his organ to exaggerated loudness, and thus hitted the fine phrasings of Wes' acoustic guitar. Mel's style to play the organ somewhat remembers his early career as boogie-woogie pianist.
This CD reminds us in many respects the old days with Wes: the instrumentation of organ/guitar/drums, but also some of the tunes: "The Days Of Wine And Roses" (recorded on "Boss Guitar"), "For All We Know" (recorded on "Guitar On The Go"), "Yesterdays" and "Jingles" (recorded on "W.M. Trio").