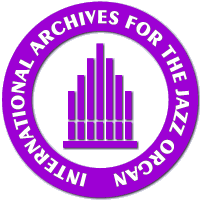 ---
NEW RELEASES 1999
---
Larry Goldings: Moonbird
Palmetto PM 2045


---

Larry Goldings, Hammond Organ
Peter Bernstein, guitar
Bill Stewart, drums, cymbals, gongs


---

You can't deny it: The influences of Larry Young on the organ playing of Larry Goldings are alive. Goldings develops a style of its own out of Young's then revolutionary use of the organ - off the Jimmy Smith paths.
Low, gentle chords and steady lines of tones dominate Goldings' play. Loud eruptions do not appear. One of the most significant tracks on this CD is a well known hit of the 60's: "Woodstock". A lyrical music lies down on a wide grey landscape like heavy clouds. It creates a tension which you expect to break up soon. But Larry keeps up the tension, even till the very last chord.
Larry and his trio produces a great jazz music; experienced artists they are, who play together since more than 10 years.




---
Back

If you don't see the left hand menu,
please go back to the homepage.
Back to the homepage