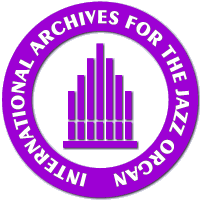 ---
NEW RELEASES 2001
---
Marc Moulin: Top Secret
Blue Note 07243-5341202


---

Marc Moulin, synthesizer
Bert Joris, trumpet
Djaffar Bensetti, trumpet
Johan Vandendriessche, tenor sax, baritone sax, flute, drums
Philip Cathérine, guitar
Paul Flush, Hammond B-3 organ
Christa, vocals
Ron Mael, voice
Bart Maris, flugelhorn, trumpet


---

Moulin's newest album is remarkable, in spite of the fact that the organ is featured poorly only. On two tracks, Paul Flush shows his outstanding talent to play the organ. He adopts the exciting rhythm of the band producing clusters of harmonies, letting pour out tones like pearls on a string.
We should hear more of this band with more organ involved.





---
Back

If you don't see the left hand menu,
please go back to the homepage.
Back to the homepage