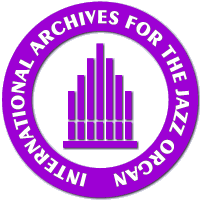 ---
NEW RELEASES 2001
---
Anders Gaardmand: La Fontaine Live
Music Mecca CD 3060-2


---

Anders Gaardmand, tenor sax
Bobo Moreno, vocals
Kjeld Lauritsen, Hammond organ
Per Gade, guitar
Esben Bach, drums


---

This time, the Organizers are supported by Anders and Bobo. And again, the Organizers prefer the live registration, as various CDs prove. Well, they might be right, as a live recording captures somewhat of the atmosphere in the club.
The music, these five guys play, carries away their public in the club, and will also carries away the listener of the CD. Kjeld and his men are guarantors for swinging and bluesy bop music. They present a selection of ten well known songs, among others the Beatles' "The Long And Winding Road". The Organizers: Denmark's number one.




---
Back

If you don't see the left hand menu,
please go back to the homepage.
Back to the homepage