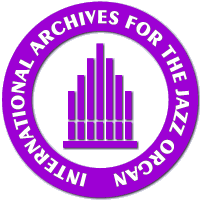 ---
NEW RELEASES 2002
---
Tony Monaco: Master Chops
Summit DCD 325


---

Tony Monaco, Hammond B-3 organ, accordeon, vocals
Derek DiCenzo, guitar, steel drums
Louis Tsamous, drums
Sarah Morrow, trombone
Donny McCaslin, sax
Kenny Rampton, trumpet


---

Fresh and vital - that's the impression of this CD. Tony allows himself to revert to jazz organ styles of the 60's when "funky" was absolutely in and was performed by such great artists as Jack McDuff and - more rare - Jimmy Smith ("Stay Loose"). Sure, Tony uses, like many others, the traditional organ style, but he brightens it up and inspires it. That's the difference why Tony is developping to one of the great jazz organ players.




---
Back

If you don't see the left hand menu,
please go back to the homepage.
Back to the homepage