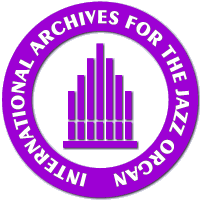 ---
NEW RELEASES 2002
---
Adam Scone: The Wild New Electric Organ Sound Of Adam Scone
Organ Tone Records OT-1001


---

Adam Scone, organ
Ian Hendrickson-Smith, alto sax
Coleman Mellett, guitar
Ben Dixon, drums


---

Adam Scone, better known as the organist of the Sugarmen 3, presents his first jazz CD under his own name. He assembles a quartet, which contains besides the classical jazz organ trio (organ/drums/guitar) an alto sax.
Adam's playing is characterized by a warm tone. No quick-tempered hot organ blows off one's ear. A clear guidance of melody and vivid solos alternate. The Leslie is used sparingly.

This way of playing apply nearly all titles of this CD, they are Adam's own compositions. One tune only (Get Salty) was composed by the saxophon player. Here, the quartet plays hot and groovy, you feel the organ sound of a Jimmy Smith.
However, a greater idol for Adam seems to have been Freddie Roach, as he dedicates Freddie a tune calles Reach for Roach.



---
Back

If you don't see the left hand menu,
please go back to the homepage.
Back to the homepage