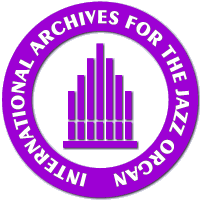 ---
NEW RELEASES 2003
---
Tony Monaco: Paesanos On The New B3
Summit DCD 400


---

Tony Monaco, New B3 organ, accordion
Robert Kraut, guitar
Louis Tsamous, drums
Joey DeFrancesco, New B3 organ, trumpet
Craig Ebner, guitar
Byron Landham, drums


---

Double organists - double pleasure guaranteed!
Tony is a devil on the organ. And an angel at the same time, because he gives us so much musical joy. His rhythm, his bluesy feeling are unique. He is the bop master of the organ.
Surely, his mentor Joey does not stand behind. And the trick of this CD is: You do not know who is playing the organ (Maybe you can guess it), whether it is Joey or Tony. Dedicated to the great Jimmy McGriff and the late great Richard Groove Holmes, this CD is one of the best recordings of bop organ jazz.





---
Back

If you don't see the left hand menu,
please go back to the homepage.
Back to the homepage