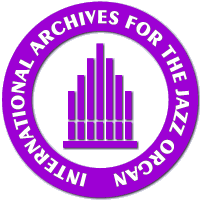 ---
NEW RELEASES 2004
---
Joey DeFrancesco: Plays Sinatra His Way
High Note HCD 7105


---

Joey DeFrancesco, Hammond B-3 organ
Houston Person, tenor sax
Melvin Sparks, guitar
Byron Landham, drums


---

A hommage to the great Frank Sinatra: Joey with an excellently set up quartet shows in a recording which was taken already in 1998, which possibilities he is able to elicit from the Hammond. Of course, his groove is famous, but on this CD, Joey demonstrates seldom heard skills of using the draw bars. That sounds as if he wants to produce voices and moods.
The musicians play a choice of well known songs such as "I Get A Kick Of You", "What's New" or "Angel Eyes", in an "infectious" way. A successful CD.




---
Back

If you don't see the left hand menu,
please go back to the homepage.
Back to the homepage