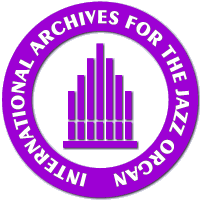 ---
NEW RELEASES 2004
---
Eddie McKeta: Live At The Blue Note
no label


---

Eddie McKeta, Hammond organ
Mark Whitfield, guitar
Tommy Chek, drums


---

Eddie Who? Even in the USA scene (Eddie lives in Las Vegas), Eddie McKeta is an unknown name. Entirely wrong. Listening to this CD, you feel, that there plays an organist whose abilities can fully compete with those of famous names. Unfortunately, Eddie's ability to set himself into a favorite light seems to be limited. Only a few people know that it has been Eddie, who gave and still gives lessons in playing the Hammond.
Eddie plays the traditional bebop style, surely influenced by Smith, McDuff & Co. But the way, how his fingers form a solo, followed by full chords, lets your blood cook. That burns - like the way Charlie Earland used to play. He's really a cat - and should get wider recognition.




---
Back

If you don't see the left hand menu,
please go back to the homepage.
Back to the homepage