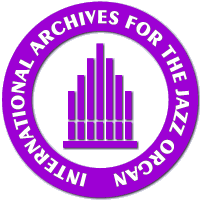 ---
NEW RELEASES 2004
---
Alexandre Huber: Organic Sound
TCB 24102


---

Alexandre Huber, Hammond B-3 organ
Bernard Dossin, guitar
Alain Petitmermet, drums


---

There gets ready a young Hammond talent to play to the Swiss gallery. By means of a classic organ trio, Huber presents himself at a mind-blowing, nonetheless moderate organ. Fine structures of melodies are brought out, followed by slightly eruptive clusters, which are played however very cautious. The voices of the organ are used in a way which we know as a certain standard of the 60's and 70's. The guitar and the drums thoroughly are of equal musical quality, which results in a dynamic swinging trio presenting compositions of its own as well as standard tunes. Ballads alternate with lively songs. Remarkable yet is the preference of the musicians for the 3/4 time.
Alexandre Huber has presented a successful CD, which you will like to listen to.




---
Back

If you don't see the left hand menu,
please go back to the homepage.
Back to the homepage