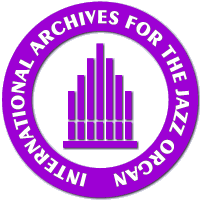 ---
NEW RELEASES 2004
---
Charles Earland: The Mighty Burner
High Note HCD 7128


---

Charles Earland, Hammond B-3 organ
Eric Alexander, tenor sax
Michael Karn, tenor sax
Najee, soprano sax, tenor sax
Carlos Garnett, tenor sax
James Rotondi, trumpet
Bob DeVos, guitar
Melvin Sparks, guitar
Bill Boris, guitar
Greg Rockingham, drums
Bobby Durham, drums
Buddy Williams, drums
Bernard Purdie, drums
Gary Fritz, percussion


---

No recently discovered recordings - just "the best of his HighNote recordings" as the label says. And an excellent reminescence of one of the hottest jazz organ players we ever had. For those who do not own his complete discography up and down anyway, this CD is a representative cross-section of Earland's burning organ with songs such as "Blowing The Blues Away", "Stomp!", "Killer Joe" or "My Blues Is Funky".




---
Back

If you don't see the left hand menu,
please go back to the homepage.
Back to the homepage