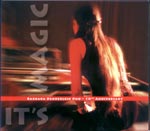 Bebab Records 250972
---
Barbara Dennerlein, Hammond B-3 organ, synthesizers
Daniel Messina, drums, percussion, vocals

---
A mirror of a musical success, of a powerful yet sensitive cooperation, such could be described the release of this live recorded CD.

At the beginning, in 1994, there is an excellent jazz organist, famous far beyond her country, and a young drummer of Argentinian origin. She is playing together with Friedrich Gulda, the well known German pianist, on the TV - he is listening to just this event and is fascinated about this lady at the organ, so fascinated that he makes his goal to play together with her.

10 years after, a live concert of Barbara, the organ lady, and Daniel, the drummer boy, in the club Kunstfabrik Schlot (Berlin, Germany) reminds us those wonderful years of a duo which has filled and still fills with enthusiasm many audiences across the European continent and beyond.

Seven titles were chosen which offer a cross-section of Barbara's compositions. Songs like "Longing" has been performed by Barbara also on pipe organ which results in a quite different impression (see her CD "Spiritual Movement No. 1"). Some months ago, Barbara and Daniel together with Peter Lehel and the Staatsphilharmonie Rheinland-Pfalz conducted by Bernd Ruf had performed "Change of Pace" (see the IAJO report "Hammond meets Orchestra"), a complex composition with alternating times. It is remarkable in which way the drummer "fills" the missing instruments of the orchestra by a brilliant solo. "In The House" sees Barbara as a pedal soloist using both her feet. A funky track is "Make It Spicy". Jeff 'Tain' Watts, the drummer of Wynton Marsalis, once expressed his enthusiasm by these words. As a bonus, actually as a highlight, "Rankett Blues" comes last. The rankett, the name of a pipe organ voice, walks on the wild side, the blues. Back to the roots of jazz, back to the blues! Barbara always loved and loves the blues. Some years ago, there was no concert of her without "The Stormy Weather Blues".

We hear an organist and a drummer nearly perfectly tuned with each other; an organist, who has found her very own style of an exciting jazz organ, who superbly masters the organ's keys and pedal, who plays with an infectious joy; a drummer who harmonizes with the musical guidelines of the organ without losing his instrument's individuality. Barbara and Daniel, go on!