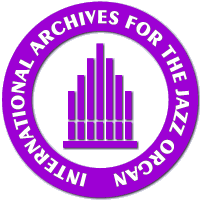 Support the IAJO
The IAJO web site has grown over the years. It now has reached an extent which financially can not be maintained by me alone any further.

Some facts (as per January 2007):
The number of pages has reached more than 3,500.
The web space for the IAJO site has reached some GB.
The number of listed organists has reached nearly 1,000.
I never asked any cent from the artists to be listed or any fee from the visitors. I want to keep these guidelines also in future time. To continue my work

I need your HELP !

You can donate any amount, whatever you are able to.

Payment instructions

I thank you very much for any help.
Jürgen Wolf
on behalf of the
International Archives For The Jazz Organ

Thanks so much to the following donators:
Bruno Micheli
Matthew Kaminski
If you don't see the left hand menu,
please go back to the homepage.
Back to the homepage