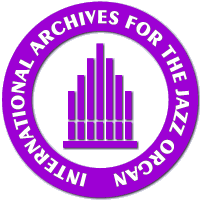 The Jazz Organ Scene
Italy
Gianfranco Cuffaro

Gianfranco started to learn all kind of keyboard instruments in his early youth. Among his favourite instruments are the piano, Moog and Oberheim sythesizers, the Hammond organ and even the pipe organ. He studied the piano at the Conservatorio in Palermo and got his master's degree.

Gianfranco toured Italy and the east coast of the USA. Some of his songs were presented in the Italian radio RAI. Gianfrancos style was very much influenced by Wild Bill Davis, Jack McDuff, and Rhoda Scott from whom he adopted the pedal play. During his career, Gianfranco had the opportunity to play together with some of the famous jazz musicians, such as Harriet Lewis, Lucky Peterson, Tony Coleman, Gordon Metz, George Hutchinson, Toots Thielemans, and many more.
Discography
Sound Samples
"Willow Weep For Me"
04:51 - 11,403kB
n/a
YouTube videos
Click on a thumbnail to see the video.
The selection is made by YouTube.