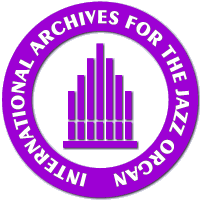 The Jazz Organ Scene
Sweden






Andreas Pålsson

Andreas studied percussion at the Malmö College of Music, and he is currently the principal percussionist in the Helsingborg Symphony Orchestra. During the last few years he has emerged on the Scandinavian jazz scene playing the organ, and in addition to performing with his own band, he has also played in the Zoltan Csörsz Jazz Trio.
Discography
Scrabble
Gorilla Deluxe gdcd001
recorded may 2010 in Oslo/Norway

Andreas Pålsson, organ
Staffan William-Olsson, guitar
Lennart Gruvstedt, drums
Kåre Nymark, trumpet
Even Kruse Skatrud, trombone

Sound Samples
"I Got Rhythm", from the album "Scrabble"
04:04 - 3,827kB
n/a
YouTube videos
Click on a thumbnail to see the video.
The selection is made by YouTube.