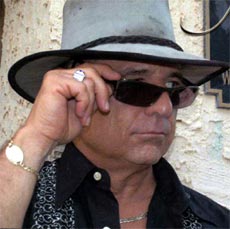 Dan Fogel

Rooted firmly in the organ tradition with the great Hammond B-3 jazz players like Jimmy Smith, Groove Holmes, Don Patterson, Jimmy McGriff, and Wild Bill Davis who emerged in the 1950s, Dan Fogel caught the B-3 bug early. Born June 21, 1948, in Atlantic City, NJ, Fogel came from a family deeply ingrained in the entertainment industry, being Jackie Gleason's second cousin and the nephew of Helen Forrest, a famed big-band singer who worked with Benny Goodman, Harry James, and Artie Shaw, among others. It was a natural step for Fogel to follow his path and first love music.

As a young child Dan found an opportune job shining shoes in front of the legendary Club Harlem when he was only seven years old. By osmosis he couldn't help but soak up the fabulous sounds - mostly jazz - that came from the club.

Luminaries of the jazz organ Groove Holmes, Jack McDuff, Larry Young, Jimmy Smith, Don Patterson, Butch Cornell and Doc Bagby were Dan's direct inspiration. As a young teenager, he was able to shadow his idols and watch the depth and soul of this music "in the flesh". It was after hearing Groove Holmes' B-3 version of "Misty," Dan was forever hooked on the intoxicating sound of Hammond. Fogel started piano lessons at the age of ten, but it was the organ that called to him as his true love. With his parents' help and a whole lot of shoeshine money, Fogel purchased his first B-3 organ when he was 11.

Countless hours of dedication organ at Wonder Gardens in Atlantic City where he was the house band with classmate drummer Harvey Mason. Fogel made his debut on the splashed into the scene like a tidal wave and was soon gigging regularly in the surrounding area on a myriad of gigs including the celebrated Kentucky Avenue, in Atlantic City, NJ, which was a hotbed for Jazz organist. Jazz organ was not available as coursework in music colleges so it was on gigs and jam sessions where Fogel developed his "Grits and Gravy" style.

Dan Fogel continues to use the Atlantic City area as a home base. Over the years Dan has worked with such jazz notables as Pat Martino, Odean Pope, Billy James, Eddie McFadden, Sunny Murray, Cecil Payne, Tony Ventura, Rufus Harley, Monette Sudler and Harvey Mason. Many of these same artists were in the recording studio with Fogel.

For Dan Fogel, jazz organ has been a way of life, not just a side hobby. He is thought to be one of the last real jazz organists around who has not strayed from the music he grew up with and learned to play so masterfully.