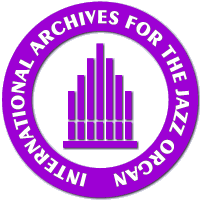 ---
NEW RELEASES 1999
---
Atsuko Hashimoto/Midori Ono: Jazz Organ Tribute
YS organ-ize Records 1002


---

Atsuko Hashimoto, Hammond B-3 organ
Midori Ono, Hammond B-3 organ
Yutaka Hashimoto, guitar
Tatsuhiko Takeda, drums
Jin Mitsuda, percussion


---

Half & half - Atsuko's trio provides for the first five tracks, that of Midori the last five.
Atsuko is the vivid organ lady who widely uses chords. She dominates the scene with a swinging sequel of tunes. Her style reminds of the pre-Jimmy-Smith era, some Wild Bill Davis, some Milt Buckner, some Jackie Davis. With a sure technique and a rhythmic feeling, Atsuko lets clap your hands.

What a contrast to follow: Midori presents herself as the Japanese Jimmy Smith. She interpretes songs of well known composers in the well known manner of the Jazz Organ Master himself. She does that with a superior technique, having her B-3 under full control.




---
Back

If you don't see the left hand menu,
please go back to the homepage.
Back to the homepage