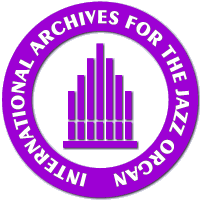 ---
NEW RELEASES 1999
---
Tony Monaco: Let's Bop!
no label

---

Tony Monaco, Hammond B-3 organ
Louis Tsamous, drums
Dereck DiCenzo, guitar
Jeff Lee, guitar
Watt Wagoner, drums
Jim Curlis, drums
Jim Bastian, guitar


---

Another hero of the Hammond organ starts his career brilliantly: His first CD released on his own gives much room for speculations. Everybody knows that some younger tough guys like DeFrancesco or Goldings are on their way to follow the older generation of the famous jazz organ players. And Tony Monaco, belonging to the very young generation, goes into the organ scene with giant steps, musically seen.
This organ player lets you feel a deep musicality, he plays with hands, feet and heart. Other than f.e. Joey DeFrancesco who plays technically nearly perfect, Tony matches the groove nearly perfectly. He seems to have been made for walking in the genuine steps of Jimmy Smith.
Sure, this organ player has to develop his own style, in order not to walk in the shadow of the many others. The base is laid, go on further!




Download a sound sample (MP3) of this album: "Yardbird Suite" by klicking on the MP3-label.


---
distribution by Tony Monaco, email b3monaco@aol.com
Back

If you don't see the left hand menu,
please go back to the homepage.
Back to the homepage