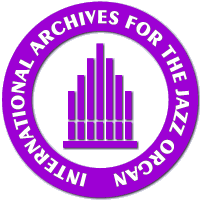 ---
NEW RELEASES 2001
---
Between Or Beyond The Iron Curtain
CDHW 27603-2


---

various artists from Eastern Europe
among those:
Wojciech Karolak, organ
Krzysztof Sadowski, organ


---

Jazz in the former communist countries like Poland, CSSR and GDR? Unbelievable, you would think. And yes, there has been and still is a very vivid jazz scene which had to fight for its survival and acknowledgement. Nowadays, after the fall of the Iron Curtain, and the Eastern European jazz secene having been integrated in the worldwide jazz community, only a few of us think back to the days of repression when jazz was seen congruent with imperialistic and thus decadent music.
The CD now released by Crippled Dick Hot Wax reminds us those times and at the same time shows us the variety and superb quality of East European jazz artists. Among those you will find two Polish jazz organ players who are to be found on the IAJO site as well (under Jazz Organ Scene/Poland): W. Karolak and K. Sadowski.
Have much fun with this CD!





---
to order the CD from Crippled Dick Records click on this text!
Back

If you don't see the left hand menu,
please go back to the homepage.
Back to the homepage