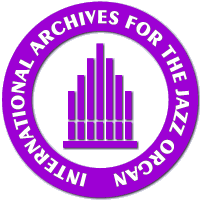 ---
NEW RELEASES 2001
---
Pierre Swärd: Up And At It
Marble MMCD01-301


---

Pierre Swärd, Hammond XB3 organ, vocals
Jan Ottesen, guitar
Jocke Ekberg, drums
Per "Ruskträsk" Johansson, alto sax


---

The "Old Campaigner" from Sweden at the organ: Still wild, perhaps a little bit less wild than on his CD Jazz 'n Soul from 1996. "Wild" Pierre Swärd - you May think of Wild Bill Davis because of Pierre's swinging chorus like style - again proves that he can fill his audience with enthusiasm. On this live recording, Pierre and his trio play some standards, among them the "Mighty Burner" written by the great Charles Earland. Also very impressive is Pierre's interpretation of "Spinning Wheel".




---
Back

If you don't see the left hand menu,
please go back to the homepage.
Back to the homepage