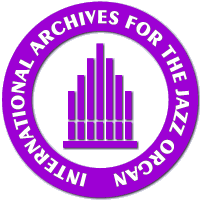 The Jazz Organ Scene
Sweden





september 2006

Pierre Swaerd

The Hammond has not been just the first love of Pierre (*1954), he started his musical career as guitar player. In 1965, he changed to the piano. But when he had listened to Jimmy Smith on the radio in 1967, Pierre decided to change again, this time for ever to the Hammond organ.

Pierre was widely influenced by such great players as Jimmy McGriff, Jack McDuff, Richard Groove Holmes, Shirley Scott, Larry Young, and Billy Preston. In 1970, he founded his first organ trio, and worked as studio as well as concert musician. Live performances and TV shows gave him chances to get better known to the Swedish public. Also, he worked together with artists like Bernard Purdie, Palle Danielsson, Ulf Wakenius, Nils Landgren, Michael Ruff, Brenda Russell and Marie Fredriksson.

Nowadays, Pierre is concentrating on his own organ trio.
Discography
Jazz 'n Soul
Four Leaf FLC CD 147
recorded 1991-1995 in Stockholm/Sweden, partially live

Pierre Swärd, Hammond B3 organ, vocals
Jan Ottesen, guitar
Hans Rolin, drums
Per Grebacken, tenor sax
Per "Ruskträsk" Johansson, alto sax

Up And At It
Marble MMCD01-301
recorded march 2001 live in Stockholm/Sweden

Pierre Swärd, Hammond XB3 organ, vocals
Jan Ottesen, guitar
Jocke Ekberg, drums
Per "Ruskträsk" Johansson, alto sax

Groove Factor
Stunt Records
recorded april 2007 in Göteborg/Sweden

Pierre Swärd, Hammond New B3 organ, vocals
Jonas Johansen, drums
Ulf Wakenius, guitar
Håkan Broström, alto sax

Sound Samples
"Organ Funk", from the album "Groove Factor"
06:57 - 6,523kB
n/a
YouTube videos
Click on a thumbnail to see the video.
The selection is made by YouTube.