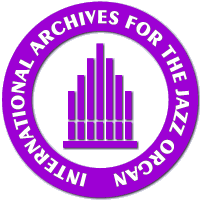 ---
NEW RELEASES 2001
---
Daisuke Kawai: Tone Wheels
alley-oop 004CD


---

Daisuke Kawai, Hammond B-3 organ, ice bells
Tsunoken, drums
Shunsuke Suzuki, guitar


---

The Japanese jazz organ scene is full of surprises. Have got our full attention two Japanese ladies at the organ, it is now Daisuke who deserves a wider recognition. The trio, a typical organ trio as we know it from countless jazz organ recordings, convinces by a grooving and swinging rhythm. Daisuke uses not only bop figures, but also creates elements of his own.
Tonewheels are not only the essence of the Hammond but also a successful album of a great Japanese jazz organ player.




---
to order the CD from Japan click on the logo!
Back

If you don't see the left hand menu,
please go back to the homepage.
Back to the homepage