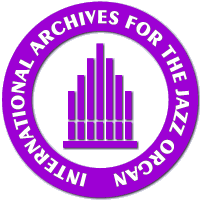 The Jazz Organ Scene
Japan
Daisuke Kawai

Daisuke Kawai was born in 1965. He began to play the organ at the age of 10. His professional career started in 1989. He has joined uncountable number of recordings with various artists since then, and he got reputation as one of a few studio musicians know how to play the Hammond. He has been, in a sense, a powerful evangelist of Hammond sound in the Japanese music field. He formed an organ trio named 'Tone Wheels' in 2001 and released the trio's album 'Limitless'. He has been active in the live show with his trio as well. With his outstanding ability of extracting good sound from B-3, he is one of the most exciting organ players in Japan.
Discography
Tone Wheels
alley-oop 004CD
recorded june 2001 in Tokyo/Japan

Daisuke Kawai, Hammond B-3 organ, ice bells
Shunsuke Suzuki, guitar
Tsunoken, drums

Sound Samples
"The Shadow Of Your Smile", recorded live in april 2002 at Burglar Tokyo/Japan
11:00 - 10,320B
n/a
YouTube videos
Click on a thumbnail to see the video.
The selection is made by YouTube.