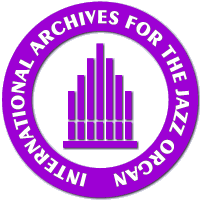 ---
NEW RELEASES 2002
---
Nick Rossi: Monkeyshines/Five For One
BIH007


---

Nick Rossi, Hammond organ
Fil Lorenz, tenor sax
Paul Turner, drums
Joel Ryan, trumpet
Lukas Vesely, bass guitar


---

Blow It Hard Records comes along with a historical record format: the single 7" with just one title on each side of the vinyl. It lets you just sniff at the music, demanding for more.
Nick, mainly performing at the West Coast of California, obviously prefers the sounds of the 50's and 60's and reminds us the playing of Booker T., John Patton and some others of the "soul jazz" groups. Certainly, he hits the taste of the nostalgic movement which has - surprisingly - seized the youth. Thus, Nick achieves his successes mainly in the dancefloor clubs.



---
to order the record visit www.blowithardrecords.com
Back

If you don't see the left hand menu,
please go back to the homepage.
Back to the homepage