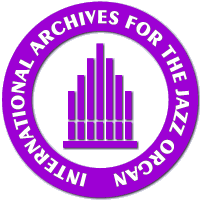 ---
NEW RELEASES 2002
---
Pat Bianchi: The Art Of The Jazz Organ Trio
Synenergy Music SMCD80017-2


---

Pat Bianchi, Hammond B-3 organ
Dave Corbus, guitar
Todd Reid, drums


---

Bebop and beyond - this short formula describes the style of Pat's organ playing. With a wide extent of sensibility, a great feeling for harmonies and for the sound of his instrument, Pat succeeds in setting a mark in the wide landscape of organ players. Hos organ swings and grooves excellently.
Pat and his trio play standards like "Infant Eyes" and "Johnny Come Lately". This CD is a wonderful collection of jazz tunes made by a really inspired jazz trio.





---
Back

If you don't see the left hand menu,
please go back to the homepage.
Back to the homepage