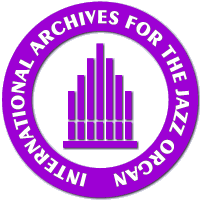 ---
NEW RELEASES 2003
---
James Simpson: Soul Revival
Solid Rock SPR-1972


---

James Simpson, Hammond B-3 organ
Kerry Wilkins, guitar
Brannen Temple, drums
Ephraim Owens, trumpet
Phillipe Vieux, tenor sax


---

A young man stood at the Hammond booth during the Musikmesse 2003 in Frankfurt gazing at the fascinating New B3. Michael Falkenstein invited him to play on this instrument. It was James Simpson, and he introduced himself with a funky and groovy organ, letting the audience at the booth jiggle their feet and clap their hands.
This young talent released his first CD on which he shows his feeling for both the organ and the jazz. Standard tunes like "Wade In The Water" or "If I Were The Bell" are the ingredients of his recite for cooking a swinging and grooving music.



---
Back

If you don't see the left hand menu,
please go back to the homepage.
Back to the homepage