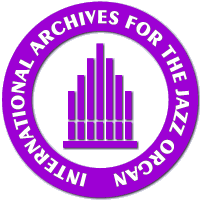 ---
NEW RELEASES 2003
---
Mike Painter: Go Up!
SGR Records SGR001


---

Mike Painter, Hammond C-3 organ, guitar, synthsizer, vocals
Roberto "Gato" Barbieri, tenor sax, flute
Alex Loggia, guitar
Claudio Falcone, vocals
Victor Fusetti, bass
Riki Cowell, drums
Domenico Riu, trombone
Alberto Lorenzon "Bon", percussions


---

The "Rocky Horror Hammond Show" - or "The Rocky Funky Organ show" - or whatever you want. Italian organist Michele Pintatore, aka Mike Painter (English stands for globalization), warms up the 50's and 60's rock music at the organ, borrowing a bit from Booker T., but also from samba organ king Walt Wanderley. Mike calls his band the Family Shakers, and that can be understood literally. Hip shaking is announced, the rock legend lives.



---
Back

If you don't see the left hand menu,
please go back to the homepage.
Back to the homepage