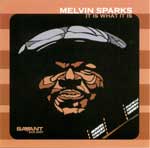 Savant SCD 2057
---
Melvin Sparks, guitar
Joe Herbeck, sax
Cochemea Gastalim, sax
Jeremy Baum, organ
Adam Scone, organ
Eric Kalb, drums

---
Melvin Sparks, a guarantor for groovy and funky jazz music, is best known for his love of the organ. Spark's bands often include the organ or Melvin plays the guitar in organists' bands. Names such as Gloria Coleman, Joey DeFrancesco, Charlie Earland, Charles Kynard, Ron Levy, Gene Ludwig, Jack McDuff, Jimmy McGriff, Don Patterson, John Patton, Sony Phillips, Dr. John, Lonnie Smith, Leon Spencer, and Reuben Wilson prove impressively how intense the cooperation between Melvin and the organists has been or still is.
And more than that: Sparks supports young organ talents, gives them a chance to achieve a wider reputation. One of the latest has been George Papageorge (on "What You Hear Is What You Get"). The CD "It Is What It Is" now features two organ players of the younger generation, Adam Scone (we know him as the organist of the Sugarmen 3) and Jeremy Baum.
Both players are fully integrated in Spark's vivid music and show a great talent at the organ.