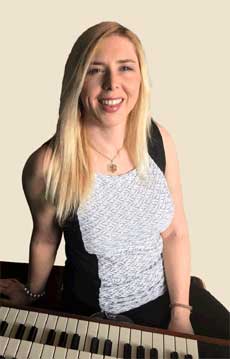 Adrienne McKay

Born in New Zealand into a musical family, singer and jazz organist Adrienne (formerly Hindmarsh and Fenemor) acquired her first organ in 2003 when she imported a Hammond C-3 organ from Canada and with very few jazz organ players in her country, she taught herself to play by copying recordings by Jimmy Smith, Joey DeFrancesco, Groove Holmes and Jack McDuff. Adrienne graduated Massey Conservatorium of Music in Wellington with a degree in jazz voice in 2004. She spent the next 4 years performing throughout NZ and Australia in clubs and festivals leading the band The Vipers.

Adrienne relocated to the USA in 2008. During that year spent in the Midwest, performing at Hammond organ summits, jazz clubs and jam sessions in Cincinnati, Detroit, Dayton and Columbus, Adrienne further developed her sound on the bandstand.

Now based in New York, Adrienne actively performs throughout the city including a weekly residency at Marcus Samuelsson's iconic Red Rooster in Harlem. In April of 2016 Adrienne self released her first instrumental album 'Mo' Puddin'. It has quickly made its way up to the number 4 position in the CMJ Jazz Charts, USA. Recorded in NYC with master musicians Peter Bernstein and Willie Jones III this album is an original spin on the rich tradition of the B3, guitar, drums trio. The tracks on Mo' Puddin' have been carefully crafted and feature three B3 classic covers and 6 of her original compositions, each with their own flavor, audacity and infectious groove.

Adrienne has shared the stage with Ronnie Cuber, Bruce Forman, Victor Jones, Tony Monaco, Sherrie Maricle and headlined at jazz clubs including Cliff Bells (Detroit), The Blue Wisp (Cincinnati, OH) and Jazz Central (Dayton, OH), Night Town (Cleveland, OH) and performed in New York clubs including Minton's, BB Kings, The Garage and Showman's.