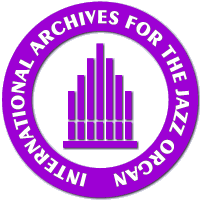 The Jazz Organ Scene
Norway










James Dickenson

James' (* 1940 in Manchester/Great Britain) early years were strongly influenced by his parents' active involvement in jazz and dance. His piano and organ studies led him to a close love of classical music. At 21, he took his first appointment as church organist. Later, James continued his studies at the Royal Manchester College of Music and at Manchester University.

In 1978 Dickenson became fully freelance, and has since been accompanying, teaching, arranging, broadcasting, using the piano as well as the organ. In 1988 James moved to Norway where he held a position in a church for some six years before returning to full-time teaching.
Discography
Jazz From The Gallery
Bergen Digital BD 7030
recorded jan 1988 in Manchester/Great Britain - may 1992 in Maihaugen/Norway - july 1996 in Gudbrandsdalen/Norway

James Dickenson, church organ, piano
Peter Glennon, electric bass
Dave Hassell, drums

Sound Samples
"I Got It Bad And That Ain't Good", from the album "Jazz From The Gallery"
04:42 - 4,648kB
n/a
YouTube videos
Click on a thumbnail to see the video.
The selection is made by YouTube.