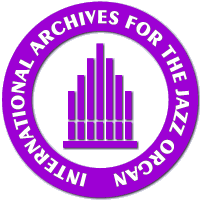 ---
NEW RELEASES 2002
---
Raphael Wressnig: Manic Organic
eps Records CD-500312


---

Raphael Wressnig, Hammond B-3 organ
Georg Jantscher, guitar
Harry Tanschek, drums


---

Raphael's direction is apparent: blues, groove and funk made by Jimmy Smith. So you May not wonder about three titles of Jimmy interpreted by Raphael's trio on this CD (The Boss, 8 Counts For Rita and Mellow Mood). But he contributes also two songs composed by himself.
Wressning's trio (which calls itself Organic Trio) is a typical organ trio with guitar and drums. The three present a swinging and groovy jazz, now and then too "academic".



Download a sound sample (MP3) of this album:
"The Boss" by klicking on the MP3-label.


---
Back

If you don't see the left hand menu,
please go back to the homepage.
Back to the homepage