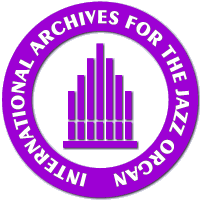 The Jazz Organ Scene
The Netherlands
Carlo de Wijs

Carlo's musical education focuses on composing and organ playing. On his first recording with Harry Verbeke ("Romantic Ballads"), Carlo presents his first song. In 1988, he passed the final exam as a Performing Musician at the Conservatory of Rotterdam. This laid the basis of his composing career in the course of which he worked for companies like FIAT and YAMAHA.

During 1990/91, Carlo organized a theater and festival tour. Between 1992 and 1994, touring with Candy Dulfer followed, and the band D'WYS was founded.

Carlo intends to melt several styles such as blues, funk and soul. He realizes his aims in composing as well as in playing the organ.
Discography
Romantic Ballads
Timeless SJP 230
recorded june 1985

Harry Verbeke, tenor sax
Carlo de Wijs, Hammond organ
Hein van de Geijn, bass
Arnoud Gerritse, drums

Organtasy
Move Records MR 3050
recorded march 1998/march 1999 in Geetruidenberg/The Netherlands

Carlo de Wijs, Hammond organ
Martin Bakker, guitars
Pim Dros, drums
Erwin van Motman, vocals
Jeroen de Rijk, percussion
Simone Roerade, vocals
Adriana Romijn, vocals
Jozien van Dorst, vocals

Turn Up The B!
Red Bullet RB 66.222
recorded may 2002 in Geertruidenberg/The Netherlands

Carlo de Wijs, Hammond organ
Léon Klaasse, drums
Marnix Stassen, percussion
Martin Bakker, guitars
Erica van de Leuv, vocals
Jan van Duikeren, trumpet, flugelhorn
Rolf Delfos, alto sax, tenor sax, baritone sax

Sound Samples
| | |
| --- | --- |
| | n/a |
| | n/a |
YouTube videos
Click on a thumbnail to see the video.
The selection is made by YouTube.